20/20 Vision Acuity System 5 has been released!
Friday, February 1st, 2013
We are happy to announce that version 5 of Canela's Acuity Testing System, 20/20 Vision is now available.
We have been working hard on version 5 of the acuity system over the last two years.  There has been a lot of focus on enterprise level features for this initial release of version 5.  These new features are designed to better support institutions like government, universities, hospitals, and small to large chains.  In 2012, we saw a large uptake in enterprise sales.  This caused us to develop the features that are needed most to participate effectively in this emerging market.
How do you get this critical upgrade?  If you are a Canela member, you have already been contacted by one of our sales support team members. They will schedule a 30 minute window with you to upgrade your current version to version 5 and walk you through the new features.  You get a one-on-one with a Canela engineer. Get all your questions answered and learn more about this amazing technology. This is a free service and is one of the many perks of being on a Canela Membership Plan.
If you do not have a Canela Membership Plan, you can easily transition to one and save a lot of money. Basic and Advanced memberships are available.  Choose the right plan to meet your needs. Both plans come with free upgrades, amazing technical support that provides direct access to our engineering team, and a free remote control & receiver.
Choose the Advanced plan and get the highest quality patient education content from EyeMotion, Patti Pics from Precision Vision, research quality contrast charts, advanced random dot testing, Windows desktop and Apple iPad remote control software, and more extra modules for free!
See why more vision care experts choose 20/20 Vision for their acuity system over all the rest by trying our service for free! No credit card is required to try our software. Get a full 3 months of access to every feature. Visit try2020.com and see for yourself.
UPDATE: RunRev Live12: LiveCode Developer Conference
Thursday, May 31st, 2012
As the date for the LiveCode Developers Conference nears, RunRev has released their conference schedule. We are excited to meet new developers and hear from experts alike. Like many of the experts in attendance, Mark (CEO of Canela Software) and Hans (Lead Software Designer) will present a workshop at the conference. Split over two sessions, the workshop "Turning Code into a Successful Business" will cover the developer's journey from product idea to successful commercial venture.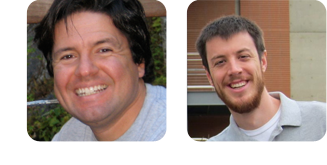 Day 2: 27th June, 2011
11:15 AM – 12:15 AM EST (Both sessions)
Turning Code into a Successful Business (Part 1)
You've finally finished coding the killer app – but where do you go from here? For many developers, the transition from coder to entrepreneur can be full of unexpected challenges. This session addresses several of the most common pitfalls, and will give you the tools to deal with these obstacles as they arise. You will learn how to answer questions like: – Who makes up my primary market? – What can I learn from my competition? – Which platforms make the most sense for my product?
Turning Code into a Successful Business (Part 2)
So you've mastered the fundamentals of your market, and now you're looking to expand. What's the next step for your business? This session will expand on our first session, exploring more advanced options for increasing revenue. We will cover topics including: • Making the most of reseller partnerships • Sustainably growing your development team • Maximizing your client database.  And much more.
As part of the session, developers will get a peak of the powerful SpiceKit technology that Canela uses to run its operations. SpiceKit includes license management, customers relations management, auto-updating, analytics, and more for commercial application developers.
RunRev Live12: LiveCode Developer Conference
Wednesday, April 11th, 2012
Members of the Canela team will be presenting at the LiveCode Developers Conference in New Jersey this summer. The conference will run from 26-29 June. We will be demonstrating our products and meeting with other developers. You can see our sessions listed on the conference schedule. Feel free to contact us if you would like to meet the team at the conference.

The most advanced Acuity System just got better
Tuesday, April 10th, 2012
Here at Canela, our software is constantly updated. While development towards version 4.8 continue, here are some of the recent features and improvements to the Acuity System:
+ Single-line optotype display now supports both open- and closed-frame crowding modes
+ The software is now compatible with proxy connections
+ E-ETDRS protocol have been updated to the latest specification
+ Registration security have been tightened
+ Random dot stereo vision testing capabilities have been added.
Vision Expo West
Tuesday, September 20th, 2011
Members of the canela team are headed to Vision Expo West to demonstrate our products and meet with our clients.
Canela is providing a 6 months free membership trial of the 20/20 Vision Acuity System. Please see the flyer below.
We have set up a Genius Bar of sorts at the MiraMed Tech booth (MS4057). Bring your laptop to the booth and we will be happy to install the software for you. We are also able to answer any questions you may have.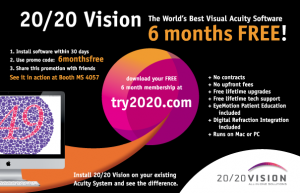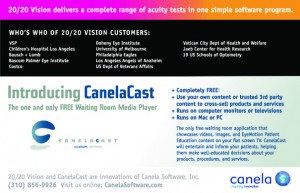 Introducing CanelaCast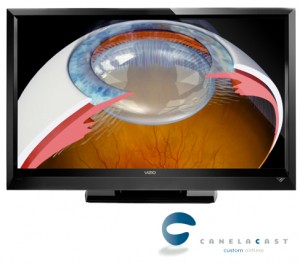 CanelaCast is the only free waiting room application that showcases videos, images, and EyeMotion Patient Education content on your flat screen TV. CanelaCast will entertain and inform your patients, helping them make well-educated decisions about your products, procedures, and services. Use your own content or trusted 3rd party content to cross-sell products and services. Canela Cast runs on computer monitors or televisions, and on PCs or Macs.