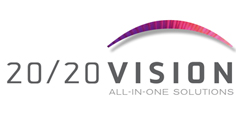 The 20/20 Vision acuity system is being used in more schools of optometry than any other system; you may already be familiar with it from your classes or preclinical labs.
Using the same tools you've grown to rely on in school, provide a confident and comprehensive exam to your own patients once you graduate. With full PC and Mac compatibility, you can feel confident that your acuity system will be ready for the future. Our team is dedicated to adapting our technology to keep up with changes in the vision care industry.
Our software runs at blazing speed, even on laptops. Our intuitive remote control provides one-button access to all acuity testing features, without confusing button combinations to remember. Bring your laptop with you when you travel off-site, and provide the same level of accuracy to all your patients, wherever you are.
Whether you're starting your own practice or joining an existing one, Canela is ready to provide you with an unbeatable acuity system. We were there for your schooling – let us be there for the rest of your career.
Get 1 free month of full membership! Download 20/20 today.