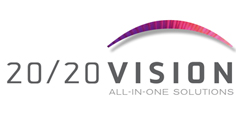 You are working on a unique research project and need tools to aid you in your search for answers. You also need tools that are backed by a knowledgeable engineering team that can make real-time modifications to meet your specific requirements. With our extensive background of cooperation with researchers, Canela Software has the experience to make your customizations a reality.
Research demands unparalleled accuracy and flexibility, making 20/20 Vision the ideal tool for researchers. Each chart can be easily modified through our powerful Preferences editor. Easy-to-understand options allow you the freedom to modify most charts in many ways.
Feel free to experiment with your different options! What effect does changing the clearance of crowding bars have on visual acuity? Do contrast sensitivity levels differ between optotypes at the same VA? Does time of presentation have an effect on accommodation in children? Many questions, and one way to find out – what do you want to know?
With 20/20 Vision, there are no different versions to consider, or extra products to buy; all our features are included in one simple-to-use tool. Download the most capable visual acuity testing tool available, and see why more researchers choose Canela.
Get 1 free month of full membership! Download 20/20 today.