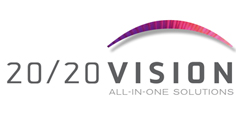 Welcome to Canela
We are the designers of the 20/20 Vision acuity testing system. Our website has been organized for the various professional groups that use our software. Each section has important information for those users, but feel free to browse other sections to learn more about the product.
No Compromises
Here at Canela, we believe that vision care professionals should not have to pay for features they may not use. For that reason, we offer membership plans for 20/20 Vision: Plan 49 and Plan 69. Both plans come with all advanced features and acuity tests included. Plan 69 includes additional extras such as EyeMotion Patient Education, Digital Refraction integration, Mini Display, Patti Pics, and much more. We also offer Plan 139 which includes a compatible preconfigured hardware, with a limited warranty.
Feature Chart


.
Intuitive and Elegant Interface
As you browse our site and learn more about 20/20 Vision, it will become clear why more doctors choose our acuity system for their lanes. Our users are a very diverse group, with a wide range of requirements. When working to meet those requirements, we always keep in mind precision, organization, and ease of use.
Our remote control is a perfect example of this mindset. The first time you pick up the remote, you can use it intuitively. Just press a chart button, and the chart appears. Press a VA size, and jump right to it. No need to struggle with modifier keys, or double functions per key – with clearly labelled and color-coded buttons, it's extremely easy to use. See Larger
Tomorrow's Technology, Today
With its easy-to-use interface, comprehensive features, and rock-solid stability, 20/20 Vision is a great tool now – but it's also ready for the future. By harnessing the power of cloud technology, we are able to provide unique features and capabilities that are years ahead of their time.
Get updates invisibly, right from the cloud over your network connection. New features are streamed directly to your computer, without any confusing disks or installation guides. Having an issue with your system? No problem! It can be fixed remotely, without frustrating and costly shipping delays.
Full Brochure and Pricing
Pricing | Full 20/20 Vision Brochure | Compatibility Chart
Get 1 free month of full membership! Download 20/20 today.

Guides