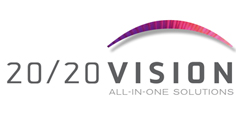 Struggling with hard-to-use or aging equipment? Feel confident replacing it with an intuitive visual acuity testing system! With features ranging from customizable acuity charts to sophisticated diagnostic tests, 20/20 Vision is ready to work for you.
Patients will comment on the high-tech feel of your office when tested using the 20/20 Vision visual acuity system. Provide more efficient vision care without sacrificing convenience; quickly switch between charts with a single press. Our intuitive remote control provides comprehensive access to features without confusing key combinations or sequences. All charts have dedicated buttons, conveniently color-coded for quick access.
20/20 Vision includes extremely powerful media playback features as well. Play videos for fixation, education, or marketing purposes – including your own custom content! Unique features like Playback Memory allow you to resume a video where you left off. One-button access to your favorite media content allows you to seamlessly use media content to animate your practice.
Canela has established key partnerships with Topcon, Haag Streit, Reichert, and Huvitz to provide the very best integration between digital refraction systems and the 20/20 Vision acuity system. Save time and money by combining the latest in visual acuity testing with the convenience of a digital refraction system. Enjoy unique features such as Hybrid Randomization and media playback capabilities without needing to purchase additional hardware.
EyeMotion HD Patient Education is a simple click away. Dazzle your patients with these professionally animated videos while providing them with targeted information that pertains to them. Pause and draw on the videos to highlight key areas of interest. Help patients make key purchasing decisions using comprehensive opticianry animations.
Get 1 free month of full membership! Download 20/20 today.