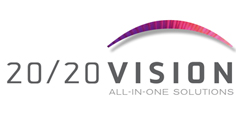 Canela makes consideration of the needs of the pediatrics market a priority. We have interviewed a number of pediatric vision specialists and listened to their requests. Our close relationship with Children's Hospital Los Angeles gives us a unique perspective on the needs of pediatrics.
Precision Vision Patti Pics are available. These cutting-edge optotypes have been shown to be very effective in the pediatric field, offering an excellent approximation of Sloan letters for non-reading children.
20/20 Vision includes powerful multimedia features to help you maintain your patients' attention. One-button access to your favorite media content allows you to quickly switch between charts and media, making testing considerably easier.  Unique features like Playback Memory allow you to resume a video where you left off, keeping children's attention between tests even more effectively.
Here at Canela, we understand that development is an ongoing process, where even polished products have room for improvement. We work diligently to streamline and simplify your day-to-day testing.
Get 1 free month of full membership! Download 20/20 today.